JavaScript Scroll to Top of Div
In JavaScript, for internal linking and scrolling through the webpage, we can have multiple ways to follow. We can even set the href of the anchor tag direct to an id and scroll up to that section.
But for a dynamic drive, we will switch to the JavaScript way of performing the task.
In the following section, we will demonstrate the scrollIntoView() and scrollTo() methods. Both methods have similar functionality, but scrollIntoView() can work without any parameter, and scrollTo() might need some specified points.
Let's check the example.
Use the scrollIntoView() Method to Scroll to Top of Div in JavaScript
Technically, the method requires nothing other than the declaration of the method. We will first initiate an instance for the top div element and then use the scrollIntoView() assisted.
Consequently, an event of linking will specifically take the view to that top portion. The following code lines explain in detail.
Code Snippet:
<!DOCTYPE html>


<

html

>
<

head

>
  <

meta

 

charset

=

"utf-8"

>
  <

meta

 

name

=

"viewport"

 

content

=

"width=device-width"

>
  <

title

>JS Bin</

title

>
  <

style

>
    #

top

{
      

height

:

200

px

;
      

background

:

pink

;


    }


    #

buff

{
      

height

:

800

px

;


    }


  </

style

>
</

head

>
<

body

>
<

div

 

id

=

"top"

></

div

>
  <

div

 

id

=

"buff"

></

div

>
  <

a

 

href

=

"javascript: scroll()"

>Jump to top of page</

a

>
  <

script

>
  

function

 scroll(){
    

var

 top 

=

 

document

.getElementById(

"top"

).scrollIntoView({behavior

:

 

'smooth'

}, 

true

);


  }


  </

script

>
</

body

>
</

html

>

Output: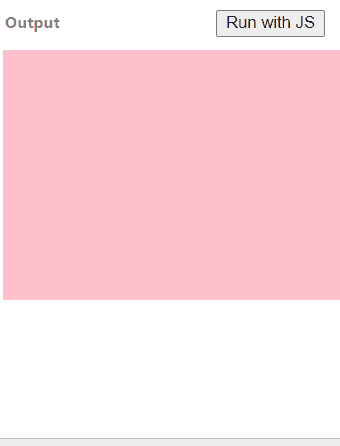 Use the scrollTo() Method to Scroll to Top of Div in JavaScript
The scrollTo() method takes parameters to reset the viewport measurements. Usually, the current state of the viewport will have its position on the x-axis and y-axis.
Later, to reach the top segment, we will reset the current positions, and thus we will be at the top of the div.
Code Snippet:
<!DOCTYPE html>


<

html

>
<

head

>
  <

meta

 

charset

=

"utf-8"

>
  <

meta

 

name

=

"viewport"

 

content

=

"width=device-width"

>
  <

title

>JS Bin</

title

>
  <

style

>
    #

top

{
      

height

:

200

px

;
      

background

:

orange

;


    }


    #

buff

{
      

height

:

800

px

;


    }


  </

style

>
</

head

>
<

body

>
<

div

 

id

=

"top"

></

div

>
  <

div

 

id

=

"buff"

></

div

>
  <

a

 

href

=

"javascript: scroll()"

>Jump to top of page</

a

>
  <

script

>
    

function

 scroll(){
  

var

 top 

=

 

document

.getElementById(

"top"

)
  

window

.scrollTo(

0

,

0

);


    }


  </

script

>
</

body

>
</

html

>

Output: